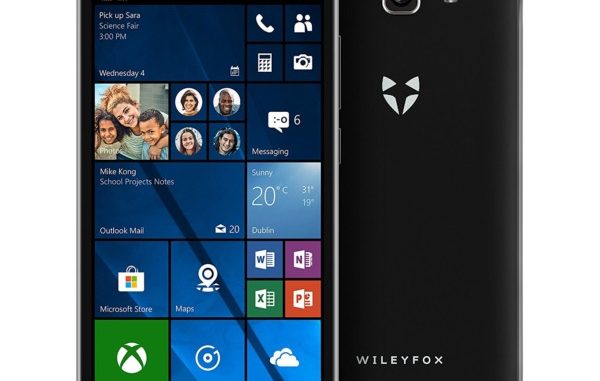 Wileyfox to release a new mobile phone running Windows 10 on the 18th December
Despite Microsoft unofficial announcing the death of Windows 10 phones by saying that they won't be supporting the platform after 2020 you can still find new Windows 10 mobiles. Phone manufacturer Wileyfox has announced a new Windows 10 handset to be released on the 18th December.
The snappy titled Wileyfox pro with Windows 10 has a quad core Snapdragon 210 based CPU, 2GB of RAM, 16GB of storage which is expandable with micro SD cards upto 128GB. It has dual cameras an 8 megapixel primary camera and a 2 megapixel front facing camera. It has a 5 inch screen and a removable battery which is becoming rare on modern smartphones.  These specification are quite low end but perfectly acceptable since the handset is aimed at business users.
The Wileyfox Pro with Windows 10 is perhaps a little over priced at 189.99 since you can pick up slightly better specification Wileyfox Android phones such as the Swift 2 which as a better camera and CPU for 139.99. But if you are heavily invested in the Window 10 platform and want to buy a new phone your options are somewhat limited and this is perhaps what Wileyfox are reliant on.
Since the Windows phone platform never really got significant market share the phone is unlikely to sell in large numbers, but at least Wileyfox are promising updates until mid 2020 for the phone which compares well to Android handsets which may only be supported for 12 or 18 months at best.
Should you be interested in the Wileyfox Pro Windows 10 phone you can currently pre-order it over at Amazon
Update: Unfortunately since this story was written Wileyfox have gone into administration (bankruptcy) and therefore it is doubtful this new Windows 10 phone will ever see the light of day.