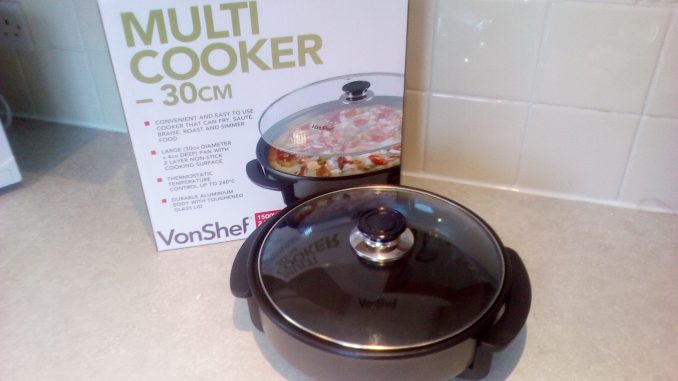 Video review of the Vonshef Multi Cooker 30cm
Today the amount of technology we have in the home is increasing all the time and the kitchen is one area where new gadgets are making food preparation easier.
Vonshef is a Kitchenware company that supply various products from drinking glasses, through to food mixers and what we are looking at in this review, electric multi cookers.
The cooker we are reviewing is the Vonshef Multi cooker 30cm available for about £15 – £20 from various retailers. It has a 1500w cooking element attached to a 30cm none stick pan that is 4cm deep. (For those that prefer imperial that's about 12″ by 1½") It has a glass lid which covers the pan keeping the heat in resulting in food cooking quicker.
Testing out the Vonshef Multi cooker
Time for some tests on the Vonshef in use. It has 5 heat settings with 1 and 2 only really useful for keeping food warm rather than actual cooking. The small manual that comes with the multi cooker lists a few example heat settings and cooking times for various foods but you with probably have to do a bit of trial and error if what you want to cook is not listed in their manual.
To fire up the Vonshef multi cooker you need to ensure it is set to 0 on the temperature control before you plug in the power. You then need to set it onto heat setting 3 and let it warm up for about five minutes before doing any cooking. I did a basic test of the speed of the cooker by using it to boil 400ml of water. From room temperature to a rolling boil took less than two minutes when set on the highest heat setting, which is better than a standard electric hot plate and pan in our testing. The manual recommends than the cooker be used with the glass lid in place, our lid was a little wobbly but still did it's job of keeping the heat in the cooker.
The pan is big enough to cook a stew or curry for about 4 people and can easily do a BBQ for 6 if you plan a barbeque and the weather turns against you. Vonshef also do a larger 42cm version of the multi-cooker which would be large enough for a 6 people meal. The multi cooker is advertised as having a double coating of non-stick surface. In the test video I cooked a vegetable burger without any oil in the pan and the non-stick surface did its job as there was nothing stuck to the pan after use. How well the non-stick stands up after a few months of use remains to be seen, I will update this review in the future with some more information on how well it performs.
Cleaning the Vonshef Multi-cooker
One downside of the Vonshef is that the cooking pan is fixed to the heating element so cannot be removed for cleaning in a dish washer. To clean the pan you need to let it cool down to room temperature and then use a soft sponge with warm soapy water. It did clean up ok after use but I would have prepared if you could remove the pan from the cooker.
Final thoughts on Vonshef electric multi cooker
The cooker is small and compact so would make an ideal for caravans or small kitchens with little space. The Vonshef cooks food quickly so it shouldn't be too costly to run. Its main disadvantage over a regular pan is that it cannot be put into a dishwasher or sink for cleaning.