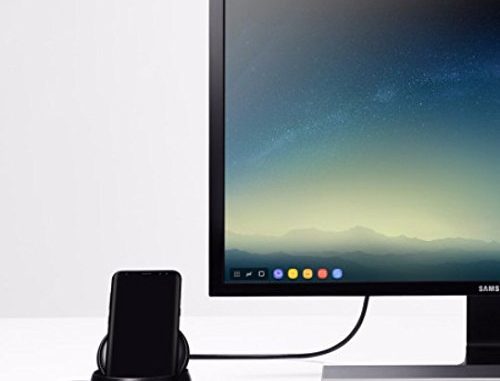 How to connect up a Galaxy S8 smartphone to a TV or Monitor using HDMI
A few months ago we reported on how difficult it can be to find a new smartphone that had a HDMI or MHL connection for displaying the output on a large screen. We actually mentioned that at the time we wrote that article that none of the then current Samsung phones supported MHL or HDMI output. Well fast forward a few months and Samsung have released their new flagship phone and what do you know they are re-introduced the ability to connect it up to a big screen using HDMI.
What is USB-C?
So now for a bit of technical background on how to output the display from the Samsung Galaxy S8. Unlike previous Samsung phones that have supported MHL this latest Samsung supports a new technology called USB-C. This latest USB connector has a lot of advantages of older USB connections. Firstly it the USB-C cables can now be connected in any orientation so no more fiddling about trying to put the cable in upside down. The second advantage of USB-C is that is supports higher charging power meaning your phone can be charged quicker. The third improvement is that it supports higher data transfer rates allowing to copy files to and from the phone much quicker than over a traditional USB-2 connection. The final improvement of USB-C -and the one we are concerned with- is the Displayport alternative mode or 'Alt mode' which like MHL is the ability to output the phones display to external devices over the USB connection, but unlike MHL the USB-C specification allows output resolutions of up to 3840×[email protected] or 4K UHD.

Implementing Alt mode means that with a simple USB-C to HDMI adapter you can connect your Samsung S8 upto your TV, monitor or projector to mirror the display from your phone on a big screen. Samsung do have an official adapter available but we have also heard that the phone works with 3rd party cables to. It not just HDMI output that can be used with the USB-C alt mode of the Samsung S8 either, with the correct adapters you can hook the phone up to monitors with Displayport or DVI inputs also.
So this is a easy and simple way to mirror your Samsung phones display on a big screen but the S8 has another trick up it's sleeve in the form of the DeX docking station.
Docking with DeX
The DeX is a docking station for the Samsung S8 which has ports for HDMI, Ethernet, USB and can charge you phone while it is docked. Now on those features it is nothing special and at a price of about £122 not exactly a cheap option but it has a trick up it's sleeve in that it can turn your Samsung S8 phone into a fully functional desktop PC.
Pop your phone into the DeX and you don't get a mirror of your standard Android screen on your Television but instead get a customised version of Android which looks like a standard PC operating system and is designed to be used with a mouse and keyboard rather than touch screen. The Samsung S8 and the DeX then allow you to use your phone as a PC and can use it for office apps such as word processing and spreadsheets, browse the internet or pretty much anything else you could do with a PC or laptop.
Now although you can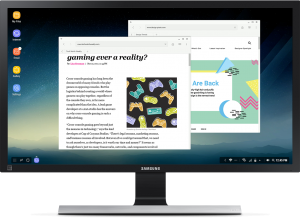 use standard Android apps such as Youtube, Gmail, Facebook under the DeX they will be operating as though they were running on a tablet PC. To get the most out of the experience you want to use apps specifically designed for the DeX that will switch to a desktop style windowing mode so they can be resized just like you can on a traditional. There are a few DeX capable apps available on the Play store and the more popular the DeX becomes the more apps that will probably take advantage of the feature.
The Dex is probably not going to be useful for everyone and if you just want to mirror the output on your phone on a television to say watch a movie it is cheaper to get a USB-C to HDMI cable, but on the other hand if you want to consider replacing an old laptop or desktop PC then buying a DeX docking station means you can get the full potential of your new powerful smartphone.