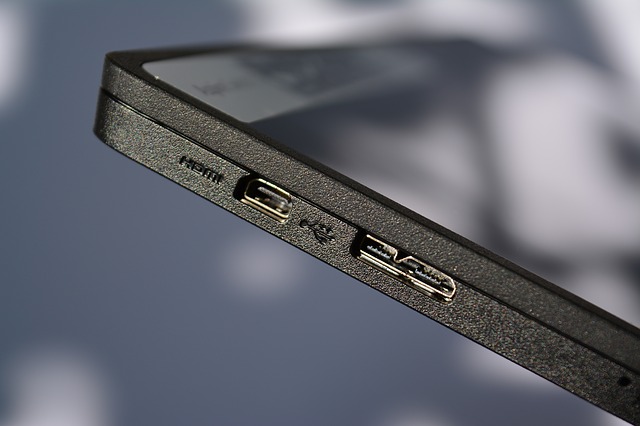 HDMI compatible phones (updated May 2021)
MHL (Mobile high-definition link) is a connector for smartphones and tablets to allow them to be connected up to external screens using a HDMI style connector on one end and a USB port on the other. Where MHL out differs from standard HDMI is that MHL allows the mobile device to charge when connected to a MHL port on a TV or monitor meaning you don't need to worry about your device's battery while using an external screen.
A few years ago pretty much every manufacturer produced at least one smartphone or tablet with MHL connectors or perhaps a HDMI output on their devices. But it fell out of fashion with the phone manufacturers and then finding a phone or tablet with wired support for external displays became quite difficult. Many manufacturers switched to using Miracast screen mirroring over wireless instead of HDMI.  Miracast was a handy feature but having the WiFi switched on all the time can soon drain your device's battery and Miracast can be jerky when the device can't keep up such as when playing games.
The official site for MHL does provide a list of MHL supporting devices here but it is quite out of date with the last update being around 2015 and even then it is inaccurate in places and missing some devices.
When Google released Android 6.0 (Marshmallow) they removed the Miracast screen mirroring option by default instead opting to push for using Google Chromecast instead which achieved some of the functionality of Miracast. Chromecast is an interesting technology, it doesn't directly mirror your display like MHL or Miracast but instead allows you to send a video or audio stream from your phone to the Chromecast, which then takes over the streaming allowing you to use the phone for other things. The downside of the Chromecast is that it requires both the phone and the Chromecast be connected to the same wireless network and doesn't support any direct screen mirroring. Therefore Chromecast cannot be used for displaying presentations, gaming or viewing apps on larger screens unless the app has been specifically coded to support casting to a Chromecast.
State of HDMI capable phones in 2021
In 2017 Samsung were the first major manufacturer to release a phone that supported HDMI output in about 2 years with their Samsung Galaxy S8.

The Samsung Galaxy S8 released in April 2017 can be connected to an external display to show a desktop interface called – see the full details here  Samsung have enchanced and improved this desktop mode for their phone with their newer top of the range phones like the Galaxy S20 
This is thanks to a new standard of USB connector called USB-C which supports alt-video modes for HDMI output. This has meants some other companies have decided to offer HDMI outputs on their flagship phones and now you can find this feature on phones from Huawei, Sony and Motorola as well as Samsung phones. At the moment it appears that it is still restricted to high end handsets that support the Alt-video HDMI output over USB type-C connectors but hopefully this will trickle down to cheaper phones as it surely can't cost the manufacturers too much to enable this function
Below I have added on to this post the original list from MHLtech with some amendments such as adding the year of release and putting them in year order. So if you on a budget and want to go for an older phone from a top brand they are easier to find. I also added updated information about some older phones that support Slimport which is a small version of the Displayport interface that was available on some handsets over the standard USB 2.0 micro connector for TV output.
2019 to 2021 phones with USB-C HDMI or Displayport output
Asus ROG Phone 3 
Huawei Mate 30
Huawei Mate 30 Pro
Huawei Mate 30 RS Porsche Design
Huawei Mate 30E Pro (China variant)
Huawei Mate 40 Pro 
Huawei Mate X
Huawei Mate Xs 
Huawei P30 Huawei P30 Pro
Huawei P40 Huawei P40 Pro 
LG G8
LG V50
LG V60 
Motorola Edge S (aka Moto G100)
Motorola Edge+ 
OnePlus 7
OnePlus 7 Pro
OnePlus 8
OnePlus 8 Pro
Oppo Reno 10x Zoom
Oppo Reno 5G
PINE64 PinePhone
Purism Librem 5
Samsung Galaxy A90 5G
Samsung Galaxy Fold
Samsung Galaxy Note 10
Samsung Galaxy Note 10+ 
Samsung Galaxy Note 20
Samsung Galaxy Note 20 Ultra 
Samsung Galaxy S10e
Samsung Galaxy S10
Samsung Galaxy S10+ 
Samsung Galaxy S20
Samsung Galaxy S20+
Samsung Galaxy S20 Ultra 
Samsung Galaxy S21
Samsung Galaxy S21+
Samsung Galaxy S21 Ultra 
Samsung Galaxy Z Fold 2
Samsung W21 (for Chinese market) 
Sharp Aquos R5G 
Sharp Aquos zero5G basic 
Sony Xperia 1 
Sony Xperia 1 II 
Sony Xperia 5 
Sony Xperia 5 II 
Sony Xperia Pro 
Xiaomi Black Shark 2
ZTE Axon 10 Pro
2016 to 2018 Smart phones with HDMI or MHL compatibilty
Asus Zenfone 3 Ultra (USB-C)
Asus Liquid Jade Primo (USB-C)
Google Pixel 2 (USB-C) Unoffically Works with Displayport docks according to several users
HP Elite 3 (USB-C)
Huawei Mate 10 (USB-C)
Huawei Mate 10+ (USB-C)
HTC 10 (USB-C)
HTC U11 (USB-C)
HTC U Ultra (USB-C)
Intex Aqua Ace II (MHL)
Kyocera Urbano V03 (MHL)
leTV Le Max Pro (MHL)
LG G5 (USB-C)
LG V20 (USB-C)
LG V30 (USB-C)
LG V34 (USB-C)
Lurnigon T3 (MHL)
Techno WinPad 2 (Mini HDMI)
Samsung Galaxy S8 (USB-C) Click here for more details
Samsung Galaxy Note 8 (USB-C)
List of 2016 / 2017 Tablets with HDMI or MHL output
Acer iconia tab 10 A3-A40 – WiFi Only (Micro HDMI)
Alcatel plus 10 – WiFi Only (Micro HDMI)
Archos 97c Platinum – WiFi Only (Micro HDMI)
Archos 133 Oxygen – WiFi Only (Micro HDMI)
Archos 101e Neon – WiFi Only (Mini HDMI)
Archos 101b Oxygen – WiFi Only (Mini HDMI)
Archos 80 Oxygen – WiFi Only (Micro HDMI)
Archos 70 Oxygen – WiFi Only (Micro HDMI)
Archos 121 Neon – WiFi Only (Mini HDMI)
BQ Aquaris M8 – WiFi Only (Micro HDMI)
BQ Aquaris M10 Ubuntu edition (Micro HDMI)
Telecast – most WiFi Only models (Micro HDMI)
There are other Windows 10 tablets which have HDMI output so these maybe your best bet if you want a new tablet which can be connected to an external screen.
All 2015 devices with MHL compatibility
Blackbetty Priv (Slimport)
Fujitsu F-02F
Fujitsu F-02H
Fujitsu F-04G
Fujitsu F-04H
HTC 0PJA300
HTC 0PK7110
HTC 0PL2100
HTC 0PL2200
Kyocera KYY23
LeTv Le1s
LeTV One Max
LeTv One Pro
LeTv One
LG G4 (Slimport)
LG G Flex 2 (Slimport)
LG V10 (Slimport)
Microsoft Lumia 950XL (Slimport)
Samsung SM-G900T3
Samsung SM-G906S
Samsung SM-T815
Samsung SM-T817
Samsung SM-T817A
Samsung SM-T817P
Samsung SM-T817R4
Samsung SM-T817T
Samsung SM-T817V
Samsung SM-T817W
Sony xperdia Z5 501SO
Sony E5803
Sony E5823
Sony E6508
Sony E6533
Sony E6603
Sony E6633
Sony E6643
Sony E6653
Sony E6683
Sony E6833
Sony E6853
Sony E6883
Sony SGP712
Sony SGP771
Sony SO‐01H
Sony SO‐02H
Sony SO-03G
Sony SO‐03H
Sony SO-05G
Sony Xperia Z5
Sony Xperia Z5 Compact
Sony Xperia Z5 Premium
Sony SOT31
Sony 402SO
Sony SOV31
Sony SOV32
Sony Xperia J1 Compact
Sony Xperia Z4
Sony Xperia Z4v
2014 devices with MHL connector
ASUS Padfonex (Slimport)
Fujitsu A 301F
Fujitsu F-03F
Fujitsu F-03G
HTC 0P6B100
HTC M8
HTC One M8
Huawei 403HW
Huawei Mediapad M1 8.0 (403HW)
Huawei P6 S-L01
Huawei P6 S-U06
Huawei S10-231L
Huawei S8-303LY
Kyocera KYV31
Kyocera KYY22
LG G3 (Slimport)
Samsung Galaxy K Zoom
Samsung Galaxy Note 3
Samsung Galaxy Note 3 Neo
Samsung Galaxy Note 4
Samsung Galaxy Note Edge
Samsung Galaxy Note Pro
Samsung Galaxy S4
Samsung Galaxy S4 TD-LTE
Samsung Galaxy S5
Samsung Galaxy S5 Dual Sim
Samsung Galaxy S5 Zoom
Samsung Galaxy Tab S 10.5″
Samsung Galaxy Tab S 8.4″
Samsung Galaxy TabPRO 10.1″
Samsung Galaxy TabPRO 8.4″
Samsung SC-01F
Samsung SCL22
Samsung SHV-E470S
Samsung SM-N9006
Samsung SM-N9008
Samsung SM-N9009
Samsung SM-N910A
Samsung SM-N916S
Samsung SM-P600
Samsung SM-P601
Samsung SM-P605
Samsung SM-P605K
Samsung SM-P605L
Samsung SM-P605M
Samsung SM-P605S
Samsung SM-S902L
Samsung SM-T320NU
Samsung SM-T707D
Samsung SM-T807
Samsung SPH-L720T
Sony Xerpia Z3 401SO
Sony D5503
Sony D5803
Sony D5833
Sony D6503
Sony D6603
Sony D6616
Sony D6633
Sony D6643
Sony D6653
Sony L55t
Sony L55u
Sony SOL26
Sony SO-01G
Sony SO-02F
Sony Xperia A2
Sony Xperia Tablet Z4
Sony Xperia Z2
Sony Xperia Z2 Tablet
Sony Xperia Z3
Sony Xperia Z3 Compact
Sony Xperia Z3 Compact Tablet
Sony Xperia Z3+
Sony Xperia Z3v X
Xiaomi mi 4 LTE
2013 cell phones and tablets with MHL & HDMI output
Alcatel ONE TOUCH 998
Fujitsu 201F
Fujitsu EM01F
Fujitsu F-01F
Fujitsu F-06E
Fujitsu FJL22
Fujitsu M702
HTC Butterfly S
HTC HTC One Max
Huawei Ascend D2
Huawei Ascend P2
Huawei D2-6114
Huawei HW-03E
Kyocera KYY21
Kyocera WX10K
LG Optimus GJ (LG-E975W)
LG Verizon Spectrum
NEC Casio Media X N-06E
Panasonic Eluga P P-03E
Samsung AT&T Galaxy S III
Samsung Cricket Galaxy S III
Samsung Galaxy Express
Samsung Galaxy Mega 6.3 and 5.8
Samsung Galaxy S III
Samsung Galaxy Tab 3 8″, 10.1″
Samsung S4 Active
Samsung S4 Zoom
Samsung SC-02F
Samsung SGH-M819N
Samsung SM-G910S
Samsung SM-N9002
Samsung SM-N9005
Samsung SM-N900A
Samsung SM-N900D
Samsung SM-N900J
Samsung SM-N900K
Samsung SM-N900L
Samsung SM-N900P
Samsung SM-N900R4
Samsung SM-N900S
Samsung SM-N900T
Samsung SM-N900V
Samsung SM-N900W8
Samsung SM-N900W9
Samsung SM-N900X
Samsung Verizon Galaxy S III
Sharp SH-08E
Sony C6802
Sony C6902
Sony C6903
Sony C6906
Sony C6916
Sony C6943
Sony L39h
Sony L39t
Sony SO-02G
Sony M55w
Sony SGP412
Sony SO-01F
Sony SOL23
Sony SOL24
Sony Xperia A
Sony Xperia SP
Sony Xperia UL
Sony Xperia Z
Sony Xperia Z Ultra
Sony Xperia Z1
Sony Xperia Z1 Compact
Sony Xperia Z1 f
Sony Xperia Z1S
Sony Xperia ZL
Sony Xperia ZR
Xiaomi mi 3 TD
ZTE Grand Memo
ZTE Grand S
ZTE Grand S LTE
List of 2012 smartphones with MHL
Acer CloudMobile
Alcatel ONE TOUCH 997
Alcatel ONE TOUCH 997A
Alcatel ONE TOUCH 997D
Asus Padfone 2 (2012)
Fujitsu ARROWS A 101F
Fujitsu ARROWS X F-10D
Fujitsu ARROWS Z F-10D
Fujitsu ARROWS Z ISW13F
Fujitsu FJT21
Fujitsu REGZA Phone T-02D
HTC Butterfly
HTC Droid DNA
HTC EVO 4G LTE
HTC EVO View 4G
HTC J ISW13HT
HTC One
HTC One S
HTC One X
HTC One X+
HTC One XL
HTC Velocity
Huawei Ascend D Quad
Huawei Ascend D1
Huawei Ascend D1 Quad
Huawei Ascend D1 Quad XL
Huawei Ascend P1
Huawei Ascend P1 S
Huawei MediaPad 7 (S10-102L, S10-103L) Lite Android Tablet
Huawei S10-231W Mediapad 10
Huawei S7-961w
Huawei U9200 Ascend P1
Kyocera KYL21
LG Optimus 3D Max
LG Optimus 4X HD
LG Optimus G (LG-F180L)
LG Optimus LTE II
LG Optimus LTE Tag
LG Optimus Vu
Meizu MX 2
OPPO Find 3
Pantech Vega LTE
Samsung AT&T Galaxy Note LTE 5.3″
Samsung AT&T Galaxy S II
Samsung AT&T Galaxy S II Skyrocket
Samsung Galaxy Nexus
Samsung Galaxy Nexus 2
Samsung Galaxy Note 5.3″
Samsung Galaxy Note II
Samsung Galaxy S II
Samsung Sprint Galaxy Nexus
Samsung Sprint Galaxy S III
Samsung Straight Talk Galaxy S III
Samsung T-Mobile Galaxy S III
Samsung U.S. Cellular Galaxy S III
Samsung Verizon Galaxy Nexus LTE
Sharp AQUOS PAD SHT21
Sharp AQUOS Phone SERIE ISW16SH
Sharp AQUOS Phone Sv SH-10D
Sharp AQUOS Phone Zeta SH-09D
Sharp AQUOS Xx 106SH
Sharp SH-930W
Sony SO-04D
Sony Xperia GX
Sony Xperia SX
Sony Xperia T
Sony Xperia TL
Sony Xperia TX
Sony Xperia V
Xiaomi mi 2
Xiaomi mi 2s
ZTE Era
ZTE Grand Era LTE
ZTE Nubia Z5
ZTE PF200
ZTE U970
List of 2011 mobile phones with MHL out
HTC Amaze 4G
HTC EVO 3D
HTC Flyer
HTC Jetstream
HTC Raider
HTC Rezound
HTC Sensation
HTC Sensation 4G
HTC Sensation XE
HTC Vivid
Huawei S7-951wd mediapad S7
LG Nitro HD
LG Prada 3.0
Meizu MX
Samsung Captivate Glide
Samsung Epic 4G Touch
Samsung T-Mobile Galaxy S II
I don't expect this list is going to be 100% accurate as I think some mobile phones that are MHL compatible or have HDMI output that have been missed off. If you know of a phone or tablets that isn't on this list but does have MHL compatibity then please feel free to post a comment and I will update the list.
Update 2020 -  There is now a way to make any Android phone output over HDMI using a low priced dongle. See more info on this article