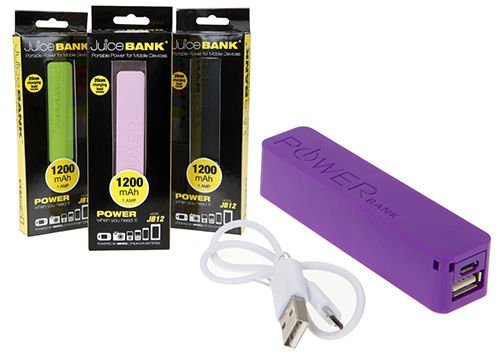 You know what its like your out and about and your mobile phone or tablet flashes up a message, its battery is running low yet you still want to carry on using it. Well In days gone phones used to have replaceable internal batteries but to make them thinner the manufacturers have been making them built into the devices so we can no longer just buy a second battery and swap out a dead one for a fully charged.Sure If you have your charger with you and your near a wall socket you can plug it in and carry on. But what if you aren't near a power point to plug it in our you need to be on the move and can't be tied to a wall socket? Well the answer could come in the form of one of the external USB power packs you can pick up for just a few pounds that will give you a few more hours power without needing to plug into the mains.
For the last week I have been testing one of these USB power banks that are available to pick up from several stores for a few quid. The one I have been trying is the power bank WF61N which has a 1200mAh internal battery which claims to give you 2 hours of extra charge for your device. The device itself is fairly light and compact and would easily fit in a pocket or handbag. It comes in a range of colours to match your device or fashion if you choose. So you know what it looks like but you want to know how it performs day to day.
Well to begin with to fully charge the USB power bank with a standard USB charger or the supplied USB cable took me 2 hours 30 minutes. There is a red LED on the power pack which flashes when charging up then goes solid when fully charged. To test the power pack i choose my 3 year old MT6577 android smartphone which has a 4.3 inch screen and a 2100mAh internal battery.
To start the test my android phone that was at 12% battery and warning me to plug it in to recharge it. I plugged in the power bank and the phone showed it was charging and the power banks LED changed colour to blue to indicate that it was discharging . I left the phone on idle for 30 minutes I was then able to use the phone surf the internet on WiFi for just over an hour before the power bank LED went out and it stopped charging the phone. I checked the status of the phone battery and it had increased to 30% charge.
I tested the Juice Bank again and this time leaving the phone idle to see how much charge it will put into the phone before it goes flat. On this test with the same phone the USB external battery pack lasted for 3 hours and increased the phone battery by 40 percent