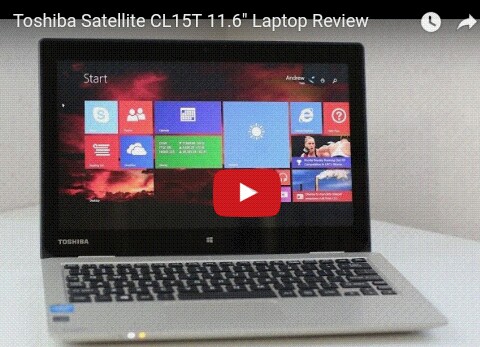 Here is a video review of the Toshiba Satellite CL15T laptop by youtube user
Should you prefer to read the review here is a transcribe of it.
Today have my for you the new Toshiba CL15t, this is an 11.6 inch budget laptop that retails for 229 this is a very attractive price point for many students out there with back to school just around the corner. Let's go and get started with the specs. It features an Intel Celeron and 2 gigabytes of ram 32 gigabyte solid state drive and an 11.6 inch touch screen display.
You also get a nice bonus with this notebook you get a one-year subscription to office 365 at no extra cost. Let's start by talking about the design and build quality, the exterior is made of a plastic finish in which the seller is calling satin gold it feels pretty durable for a budget laptop the interior is also made out of the same plastic material the weight comes in at two point nine pounds.
A 0.83 inches the keyboard flex was very good and the display flex on the top was very minimal overall the build quality and design of this notebook is great considering its price range. One minor annoyance of the exterior is the two rubber feet on the back of the display when you're adjusting the display of this notebook you'll feel the bottom of the laptop coming up it just feels weird at first however the asus x25ta has the same design and I've gotten used to it. On the left side of the notebook you have your AC charging port, power button, power status LED indicator, full-size HDMI USB 3 and an SD card reader. Those are you planning to use the SD card reader for memory expansion will bedisappointed because it sticks out quite a bit however this is not a deal breaker at home. On the right side of the notebook you have your headset / microphone jack combo, a USB 2 and your Kensington security lock slot. Your AC power adapter it's pretty small and compact but the charger itself is huge it reminded me so much of my 2001 Toshiba notebook. Next up is display performance this is a 11.6 inch touch screen display with a resolution of 1366 x 768. Text is fairly sharp especially at the screen science. The color accuracy is what you would expect on a budget laptop despite for pro coloring. The scores were sixty four percent for the sRGB and forty-six percent for the adobe RGB, with these scores don't expect accurate color results. With that being said for most users out there that just want to work on school work and play some games during downtime this display will be fine. The side to side viewing angles on this panel we're okay with the top to bottom viewing angles were poor. Most budget laptops i have tested all had this issue. These budget laptops will usually require you to adjust the display orientation to get a great view. such great performance was smooth and precise and I was actually surprised to find an opening around this price range with a touch screen. For example the HP stream 11 is $199 and it does not have a touch screen panel.
The keyboard on this notebook feels a little small and crammed especially the tab and arrow keys. I wish they would have used a bigger keyboard like the one found on HP stream 11 which was a great keyboard. Another complaint i have was the key travel is just a tad short and the tactile feedback was lacking. The trackpad is from synaptics and it does a good job for the most part it also features two physical buttons. Unlike most laptops on the market two-finger scrolling is smooth but the high sensitivity can be an issue at times. Multi-touch was a bit choppy as well. Overall the trackpad does a decent job without giving me too much issues. The cpu present in this notebook is an Intel Celeron 2840 clocked at 2.16 gigahertz with a burst up to 2.58 gigahertz. It offers just enough juice to get your daily productivity apps to run smoothly for most students out there and them Celeron 2840 will be adequate for your schoolwork. The integrated GPU is HD graphics it offers decent performance and if you tweak your settings just right you'll be able to play light duty games like Minecraft and league of legends. As a heads up in order to have minecraft running smoothly make sure you install Optifine plug-in to get better results. Without further ado let's go and test our league of legends running, at 1366 x 768 on low settings as you can see here this game is running pretty smoothly without any noticeable lag right now i'm averaging around 40 to 45 frames per second and it seems to be doing a great job. Performance from the 32 gigabyte emc drive offers decent performance it's a little faster on the road speed than the traditional 5400 RPM drive but the write speeds are much slower the biggest limitation on this notebook is the size of the drive with an advertising space of 32 gigs you're really only getting about 15 gb after the OS and system files are pre-loaded.
Battery life has been great for such a small compact laptop, this notebook features are two cell battery pack and you can expect to get around four to five hours out of a full charge with medium screen brightness. This is with your normal office suite apps streaming netflix and browsing the web thanks to the power efficient Intel Celeron 2840 this notebook is fanless and during my gaming test I do not experience any excessive temperatures. Here's a quick look at the internal components of this notebook. you're battery pack, speakers, wireless card, RAM and you're 32 gigabyte emc drive. The drive is soldered on board so there's no way to upgrade those components. Let's dive into speaker performance there are two bottom facing speakers and the sound quality is not that great, the sound levels are pretty loud but they are very flat. I would say the speakers on this notebook are the biggest disappointment and here's the quick demo in action
So let's get to the conclusion of this notebook with back to school around the corner and with a price tag of 229 this is a great laptop for students to get their schoolwork done without breaking the bank. The Intel Celeron 2840 offers just enough horsepower to get your productivity work done and if you keep your settings very low you'll be able to play some light duty games.